My phone was totally dead by now, so no more diary and no pictures with it. Even with all the tricks I could think off, it did not come back on. The next day we started to ride south towards home. From Saariselkä via Sodankylä, Kemijärvi to Jumisko (about 320km). Nearby Jumisko, we pitched the tent on a lovely place by the water and we had a great view towards the lake.
Evening view from the tent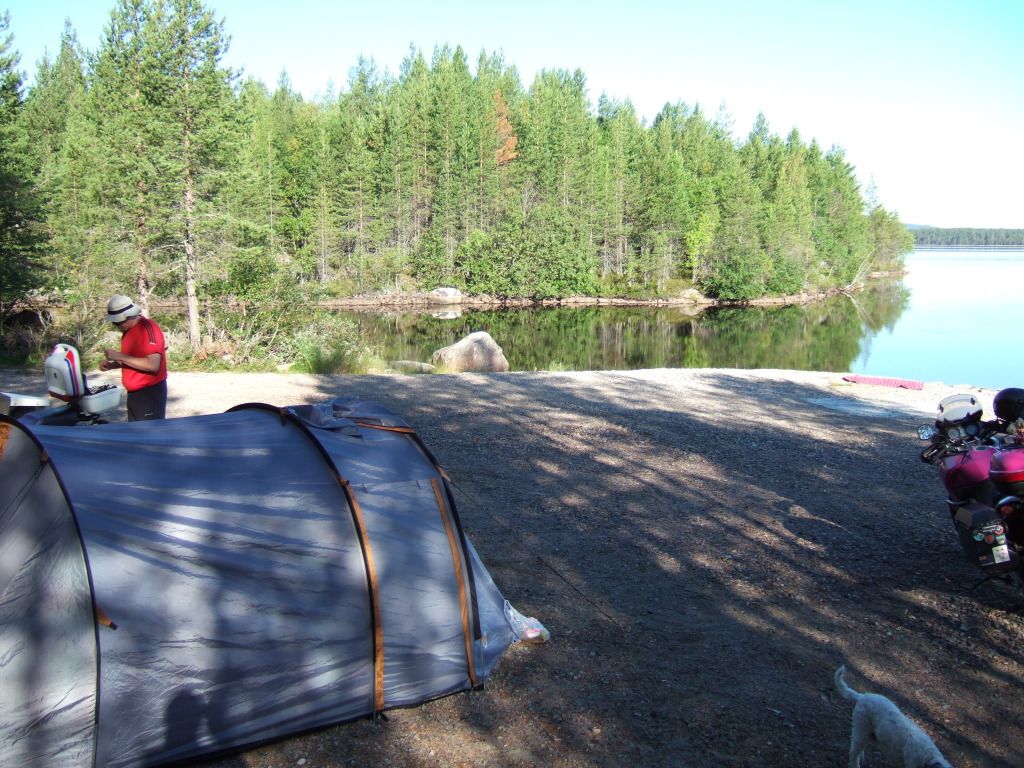 Camping by the lake
The lake water so warm and felt smooth. It was very easy to go into the lake via the ramp (to put boats into the lake). What else does one need?
The following day, we drove about 270km to Suomussalmi via many gravel roads. I was too tired to build the tent, so we decided to rent a cottage for the night. I was also hoping to get my phone back alive if we were in a dry place (even though I think the power-connector was broken, I hoped that a dry place would improve the situation). The place was full of Russians who seem to collect berries. High season for that job. Anyway, we were lucky and a cottage directly by the lake.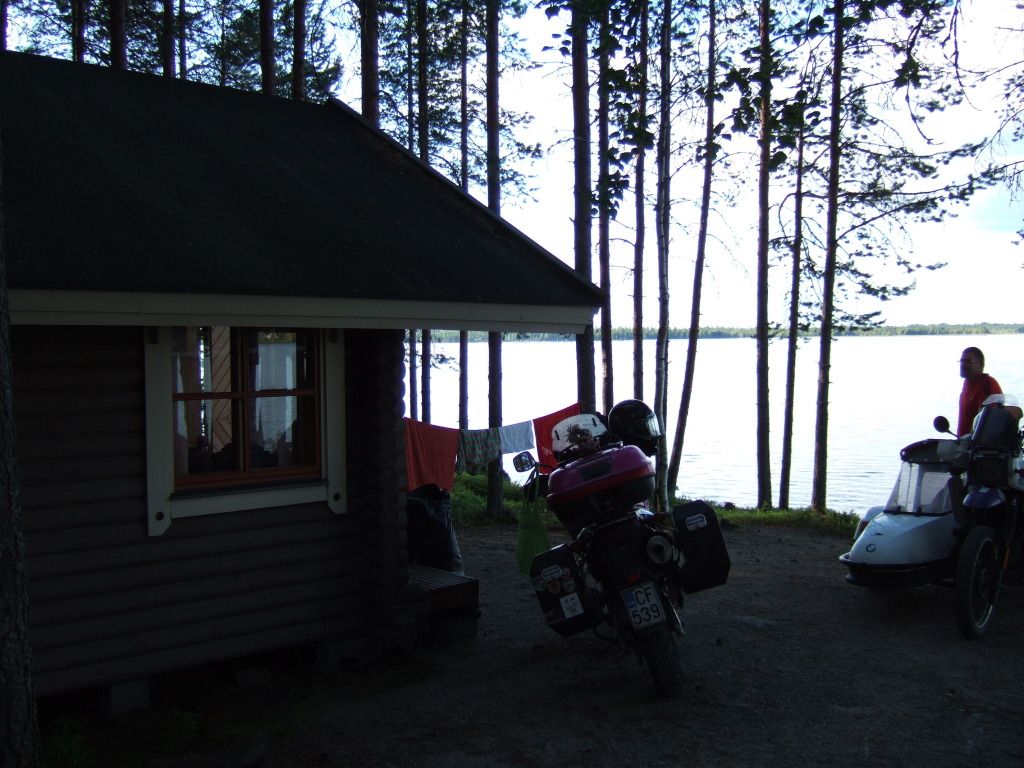 Cottage by the lake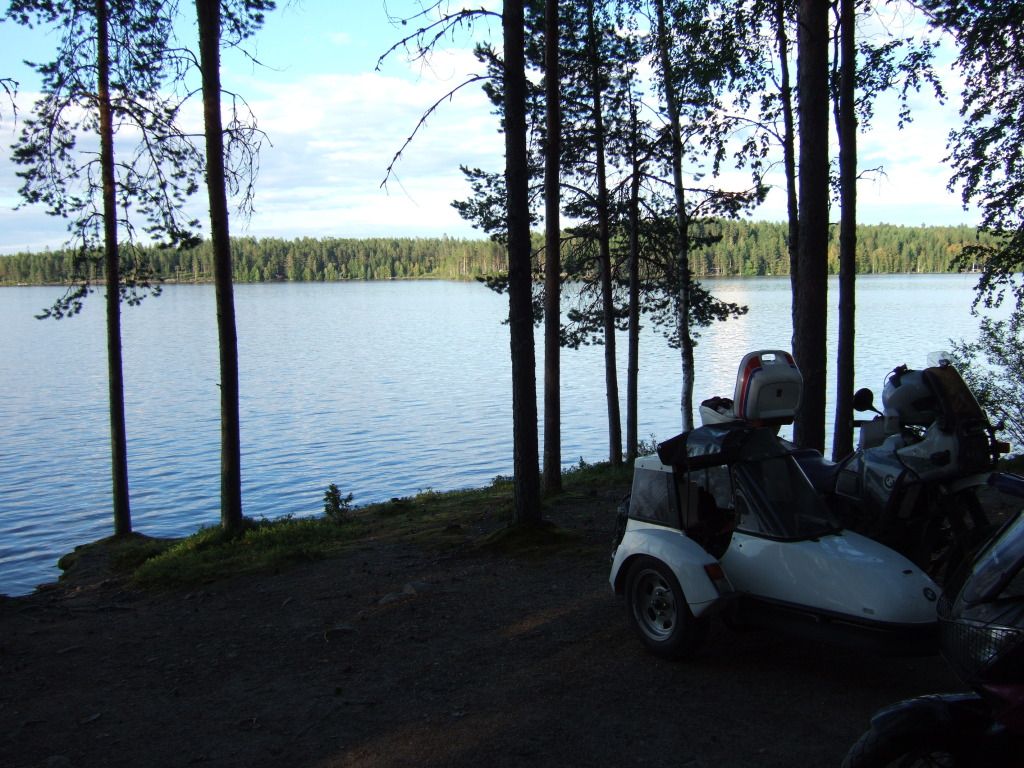 another view to the lake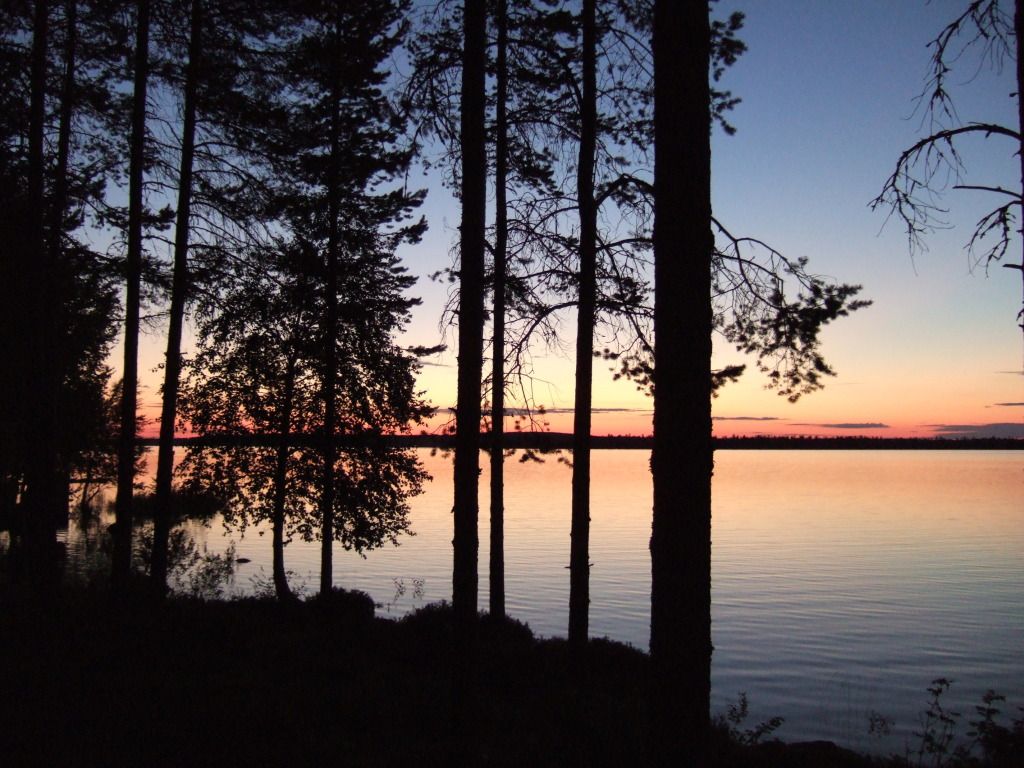 Sunset
The place was full of surprises. We saw two donkeys running around - I was not sure about their purpose. And then there was a goose - I think she was the real watchdog on the camping ground (we needed to be careful with our girls).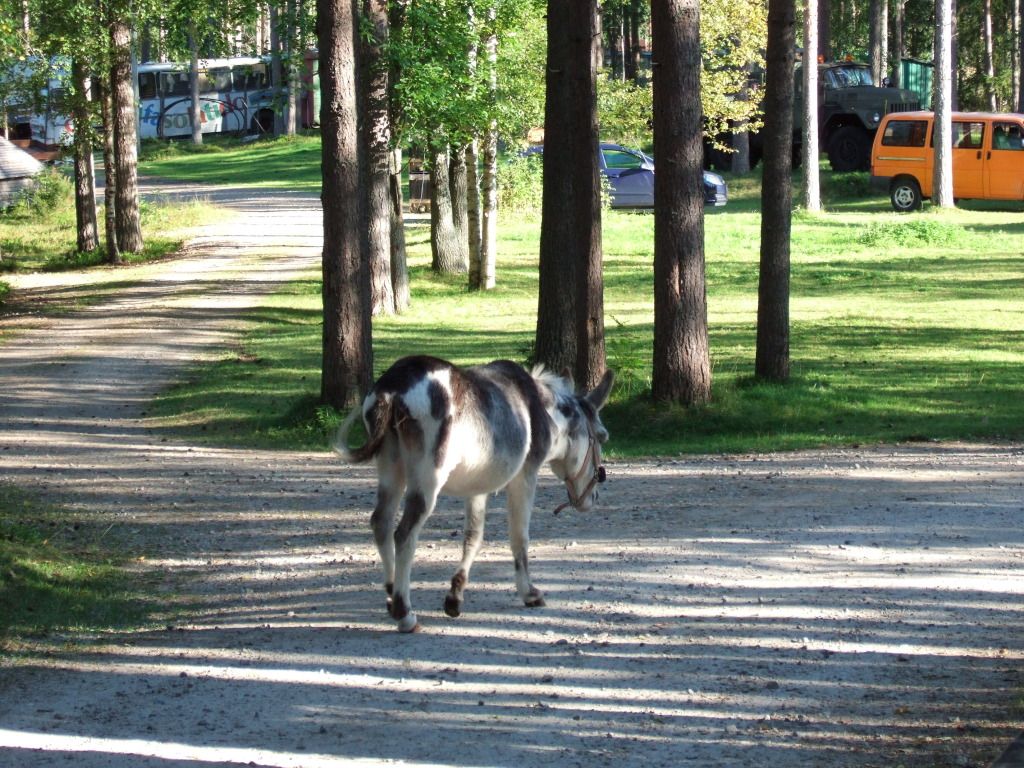 what is running here around???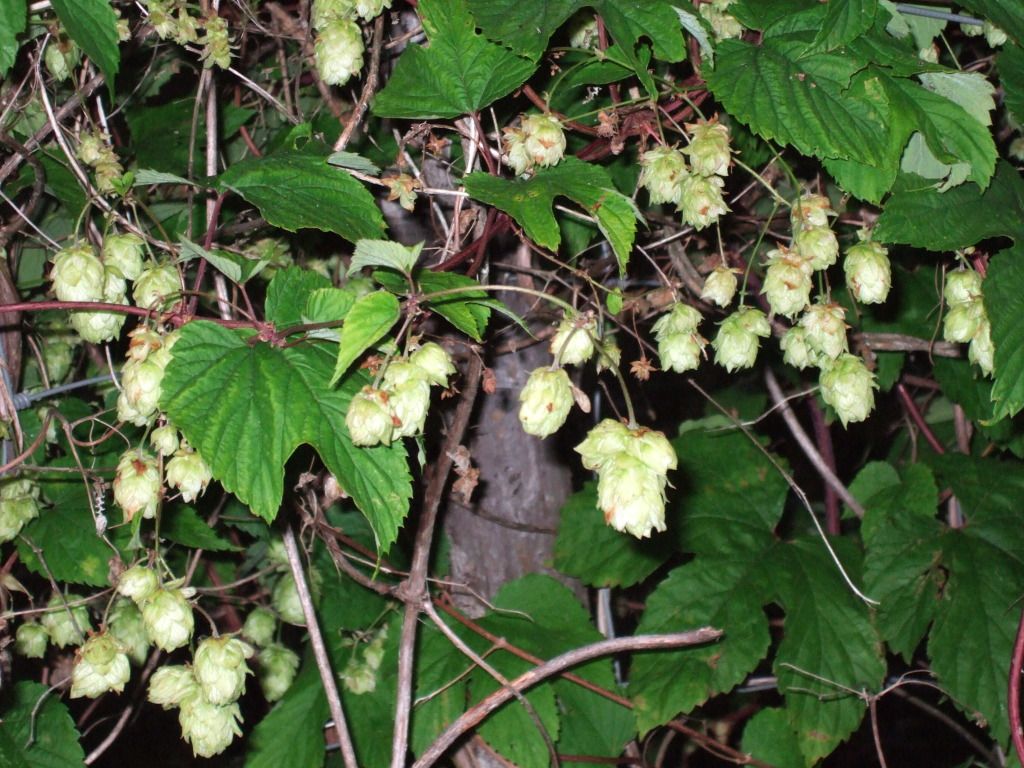 Preferred in form of a dark and cold beer :)
After that, it felt that the nice riding part was over. We had two days left to make it home. So the next day, we headed towards Savonlinna via Heinävesi and Oravi - a total of 470km. Naturally we tried to stay on smaller roads and get some fun on gravel. We had all sorts of weather - sunny and hot.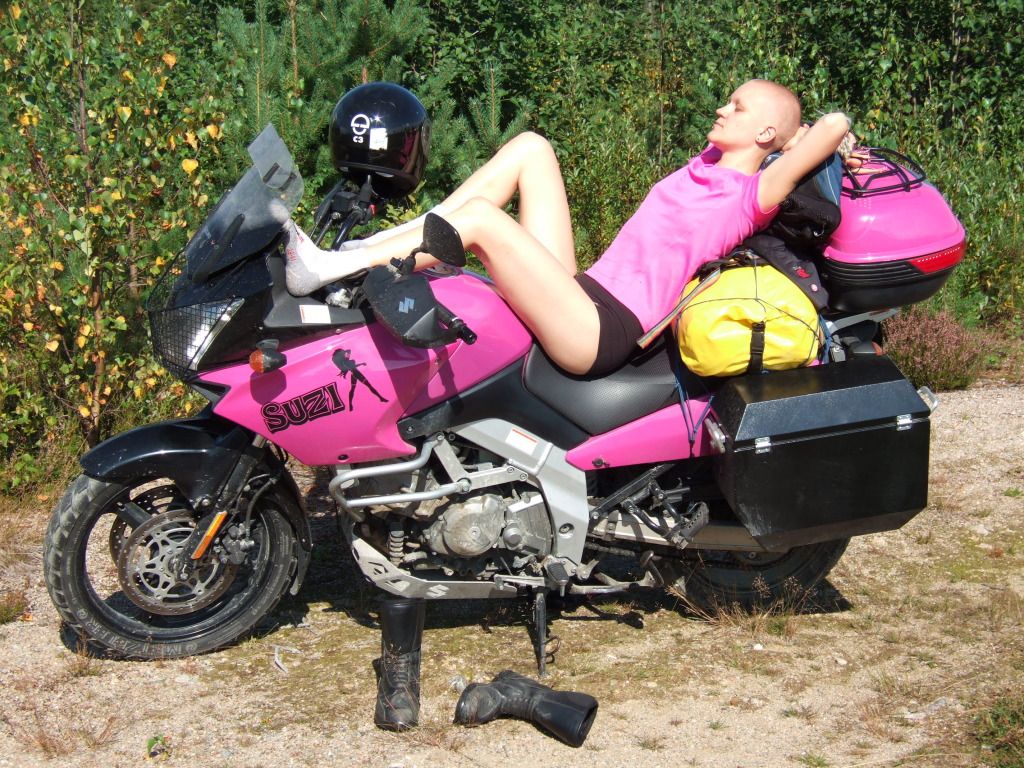 Sun bathing
And some rain. It must have just stopped raining. The streets were wet and boy- I got a lot of dirt on my bike.
A dirty dirt bike ;)
And we had one short ferry crossing at Haukivesi.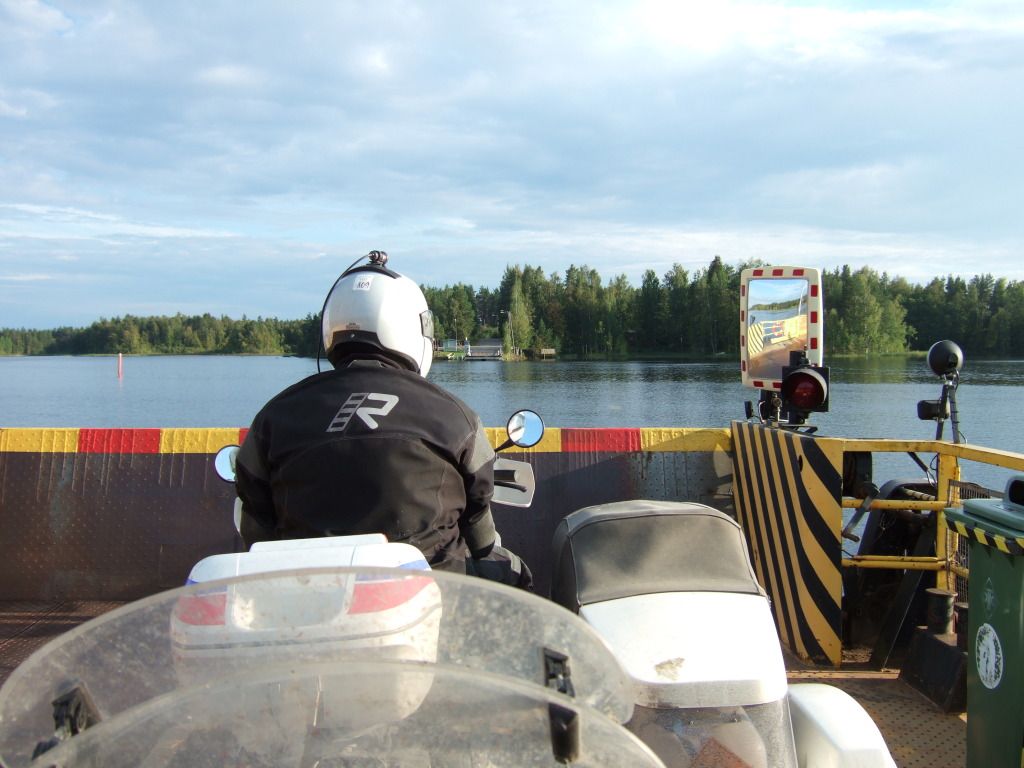 Ferry crossing
It was a long day and once more we rented a cottage. OMG - what a difference in the mökkis. Compared what we got for 70EUR in Ruka to 70EUR in Savonlinna - the difference was as big as day and night.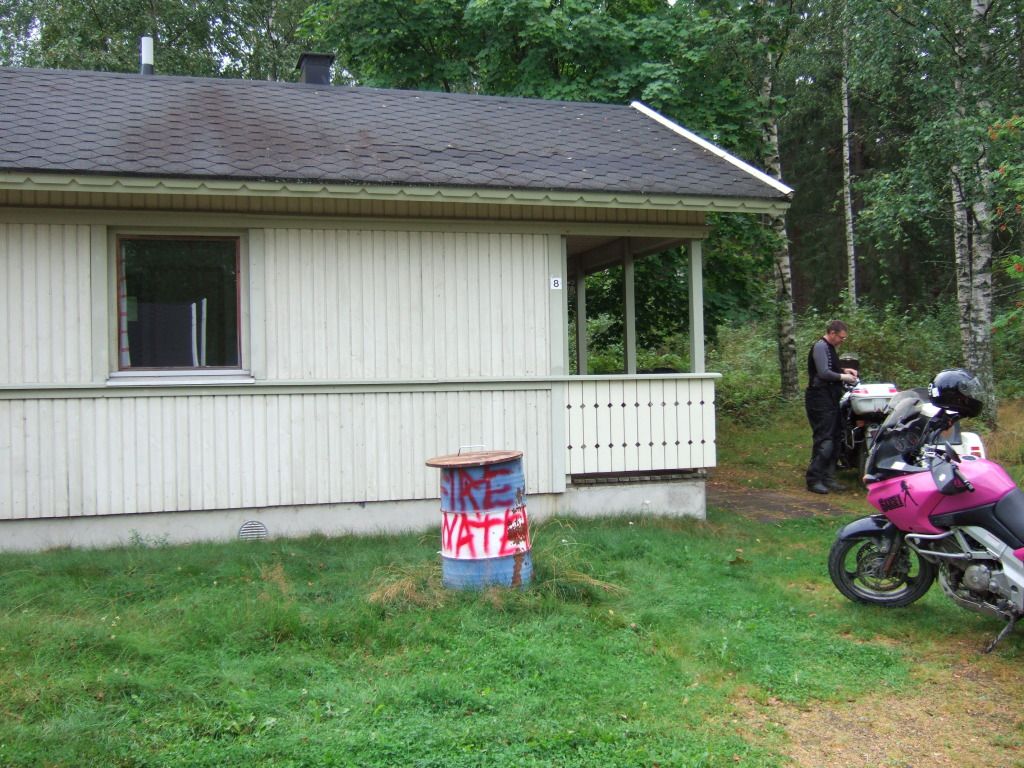 70EUR - we got much more value for this price in Ruka!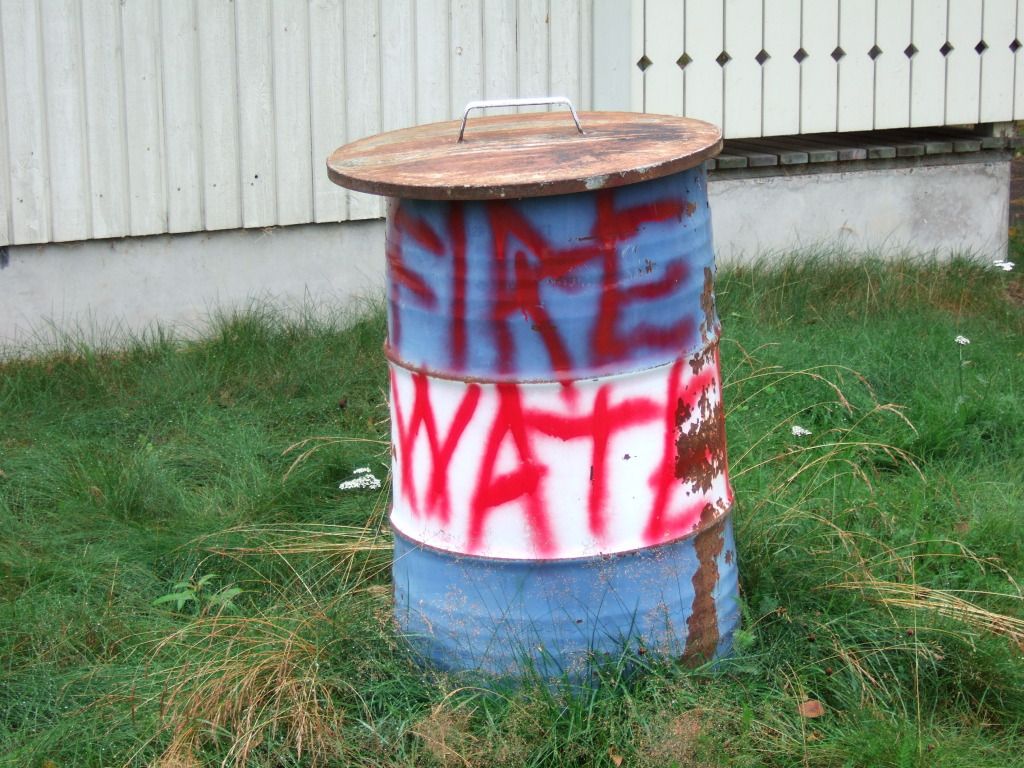 Firewater - is this booze or what? No, it's the modern fire extinguisher in front of the house
The last day on the road. First we wanted to take it easy and then Skippy commented that her chain sounds horrible. So after we drove small roads along Saimaa and Somenjärvi to Ristiina, we decided to take the big roads home. Mäntyharju was next and then number 5 road to Mäntsälä and via road 25 back home. Quite boring, and on the other hand also relaxing. The steering with this sidecar is heavy and this last leg was welcome for me to get a rest. After 380km we arrived safely home. The chain was still holding (it was 2% stretched), and also my bike did the last km without problems.
~ Wolfi
p.s. the phone is now in repair and I hope they can save my pictures, so there might come some more :)